"If we could see the miracle of a single flower clearly our whole life would change."
Emotive. Sensual. Fragrant. Intricately complex and unashamedly beautiful. It's not hard to see why the tradition of floral gifting has endured the test of time. For thousands of years the language of flowers has enabled the wordless representation of emotion, the significance of each flower differing in its meaning and symbolism. With Valentine's day around the corner we take a look at some of the most popular flowers, exploring their importance and hidden messages.
Let them know just how much they mean to you with our range of handcrafted Valentine's day bouquets.
Popular Valentine's Day Flowers
From red roses and pink peonies to purple tulips and Peruvian lilies, we take a look at some of the most popular flowers and their symbolism, and why they make the perfect gift this Valentine's day.
Sunflowers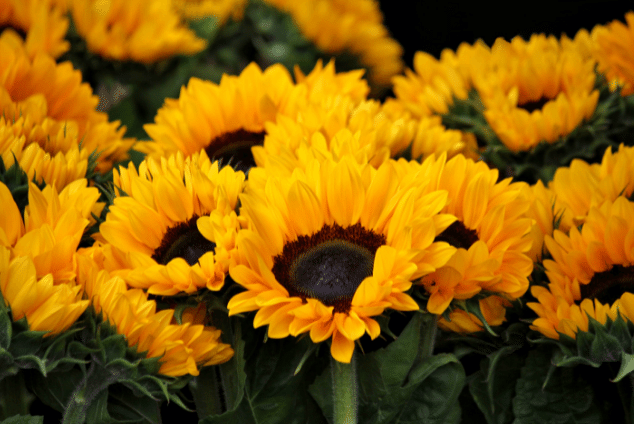 Sunflowers are not only strikingly beautiful, with vibrant yellow petals that resemble rays of sunshine, they're also full of meaning. Said to represent happiness, longevity, honesty, admiration and devotion they make an ideal gift for that special person – whether that be a partner, parent or close friend.
Orchids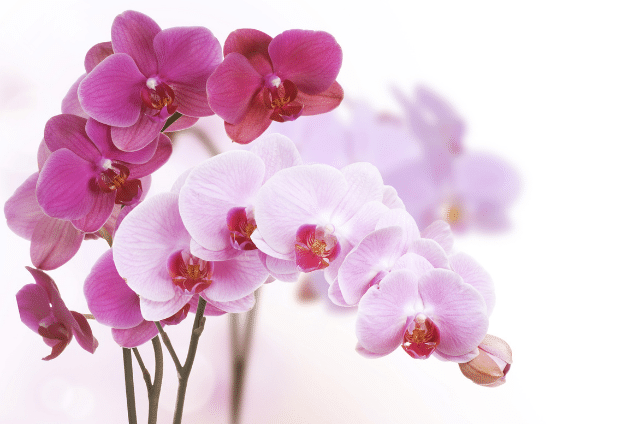 Derived from the greek word "orkhis", so named due to an apparent resemblance of the male anatomy, orchids are thought to symbolise virility, fertility, thoughtfulness, beauty and charm amongst other things. Yellow orchids are said to represent friendship and new beginnings, white orchids innocence, purity and elegance whilst pink orchids are a symbol of femininity, grace and joy.
Celebrate your loved one this Valentine's day. Beautiful, delicate orchids available in white, pink or yellow.
Peonies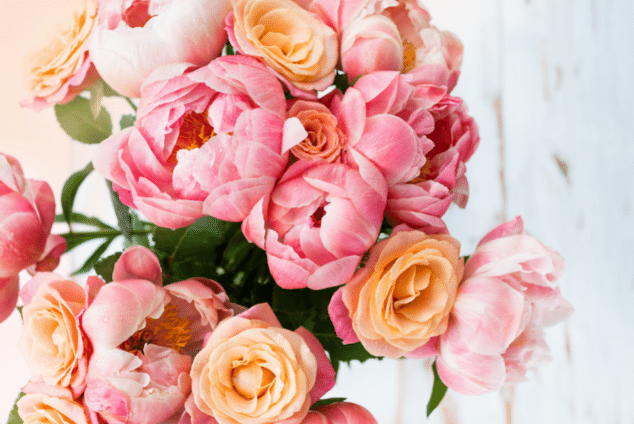 Historically and mythologically significant, the name "peony" has Latin origins, meaning "healing". The classic pink peony is often seen at weddings and in bridal bouquets and represents happy marriage and prosperity. Orange peonies are thought to symbolise love, honour and good fortune whilst white peonies are a representation of bashfulness – ideal if you're unfortunate enough to be needing to apologise this Valentines day!
Tulips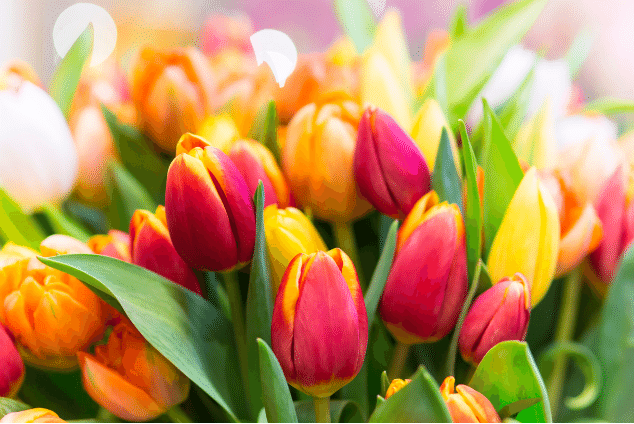 The association between the tulip and love is longstanding, and their delicate beauty makes them the ideal choice for a loved one who wants to steer away from the more traditional rose bouquet. Pink tulips symbolise affection, caring and good wishes, white tulips purity, honour and faith and red tulips passion, deep love and lust.
Roses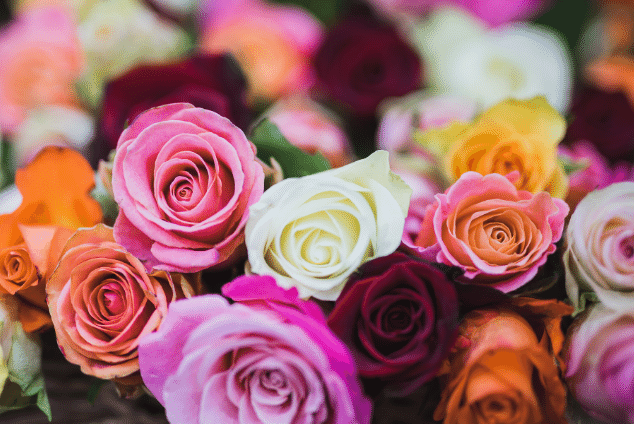 It would of course be impossible to talk Valentine's flowers without mentioning the rose. There are so many choices! From the single red rose accompanied by a box of chocolates, to luxury bouquets and scatterings of rose petals, rose have become synonymous with true love and romantic adoration.
Different colours, as you'll already have guessed, have a different meaning – making them perfect gifts for your nearest and dearest. Cream roses represent charm and thoughtfulness, yellow roses friendship and joy, red roses of course symbolise romance, love, beauty and courage and purple roses, which were typically reserved for royalty are a great way to show that special someone just how important they are to you.
Why a flower arrangement makes a great Valentine's Day gift
As we've explored, flowers represent a language of symbolism, hidden meaning and emotional connection. The individuality and differing symbolic nature of these beautiful flowers extends to their specific colour, meaning it's truly possible to personalise your flower selection based on who your gift is for and what you would like it to say to them.
Whether you're choosing their favourite flower or something a little different based upon the flower meanings we've discussed – one thing's for sure, you can't go wrong with flowers for Valentine's day!
Handmade Valentine's day cards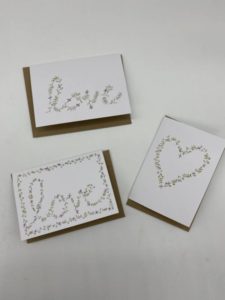 Flowers may speak a thousand words but sometimes only you can tell someone exactly how you feel. Our Valentine's day cards are the perfect accompaniment to a beautiful bouquet of flowers. Go the extra mile this Valentine's day and accent your chosen bouquet with one of these fabulous cards.
Book your very own private flower arrangement workshop
Know a special someone with a passion for flowers? Our private flower arrangement workshops could be the ideal gift to your loved one this Valentine's day. Workshops take place at our shop in Brighton & Hove, but can also be arranged to take place at your home. Flowers, colours, sizes, arrangements…the choice is yours!
Shop Valentine's Day flowers
If you have any questions about any of our Valentine's day products, get in touch today on 01273 770966. View our full Valentine's day range online, and follow us on Facebook to keep up to date with all things floral.