Bespoke Wedding Flowers for your Big Day
At the Brighton Flower Company, we know how important it is to ensure your big day is perfect – for you, your partner and your guests. That is why we work with you to lovingly create bespoke wedding flower arrangements and bouquets that reflect your chosen theme, venue and personality as a couple.
Our approach is very personalised and we like to meet you and learn more about what you imagine for your wedding or civil partnership and discuss the creative steps to make it a reality.

Our Wedding Services
Our highly skilled, fully qualified floristry team have a passion for design and will work with you from the outset to create your personal floral arrangements, within your budget and to the highest standards.
We have experience working with a range of colours and themes and have expert knowledge of the best types of flowers for each individual scenario. Once you get in touch with our team, our services include: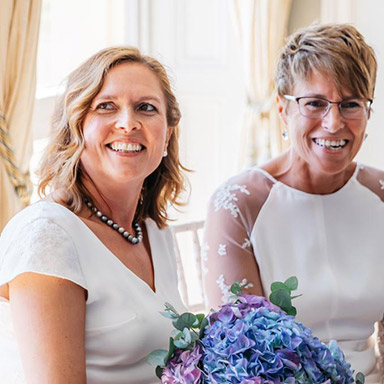 Free wedding consultation
We will discuss your budget, your chosen themes and colours and types of arrangements you are looking for.
The consultation will include advice from our florists and creative team to ensure your vision is understood and enhanced for your wedding. We recommend you bring in anything you think would be useful for this session, including mood boards, pictures and fabrics. Your input and research will help us design your bespoke arrangements.
Bespoke Arrangement design
Once you have confirmed that you are happy with everything that we have discussed, we will work with you to plan the design of each individual bouquet and floral arrangement.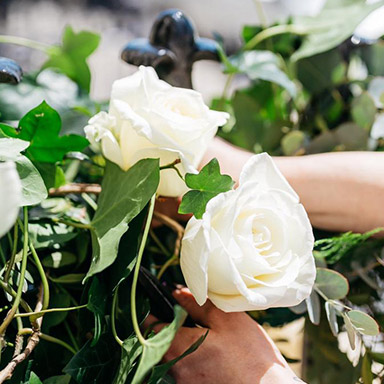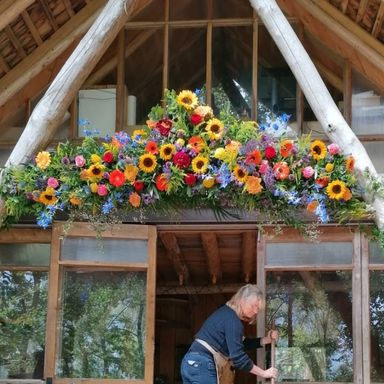 Flexible wedding flower options
We offer a range of flexible options for all types of budgets, to ensure you get the best flowers for your wedding or civil ceremony.
Bouquets and Arrangements
Every wedding and civil ceremony is unique and has its own individual style that we can create floral looks for. Whilst we tailor our flowers to each occasion, here is a sample of the arrangements we provide: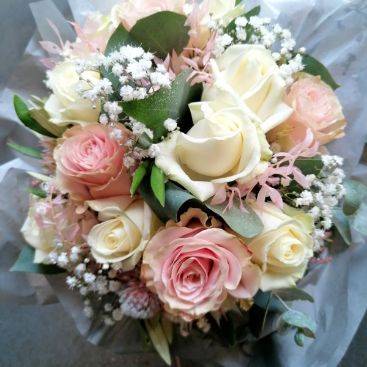 Bridal Handtied Bouquet from £95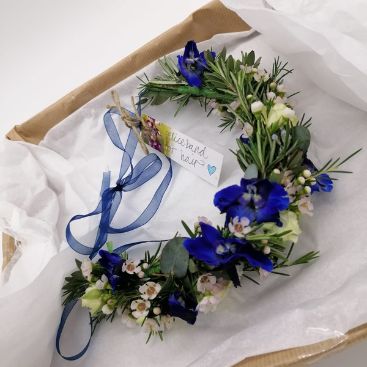 Floral Hair Crown from £30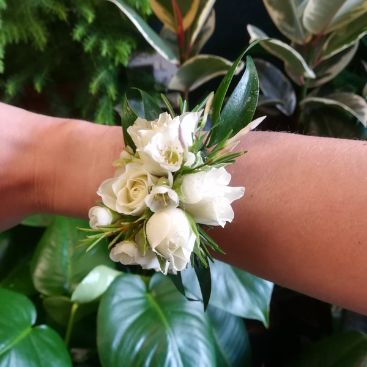 Corsage from £15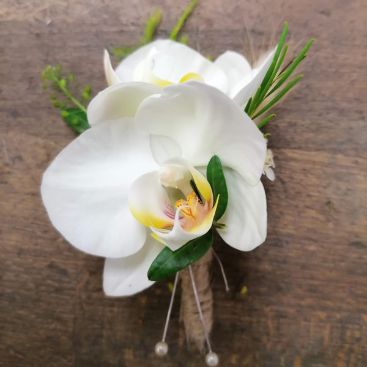 Buttonhole from £9.50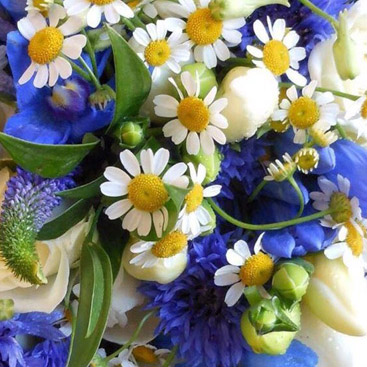 Top Table Arrangement from £125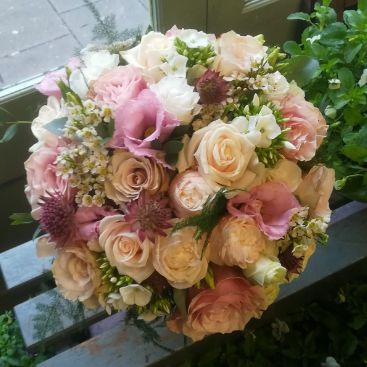 Table Centre from £55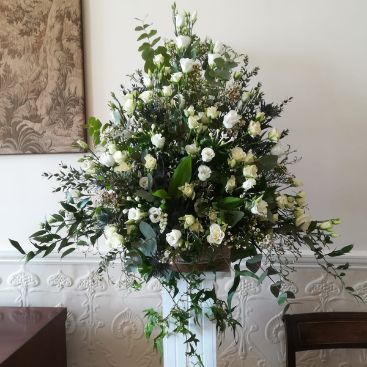 Pedestal from £200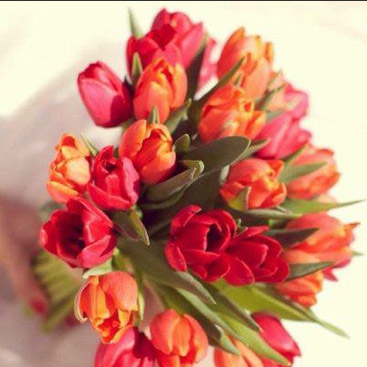 Thank You Bouquet from £40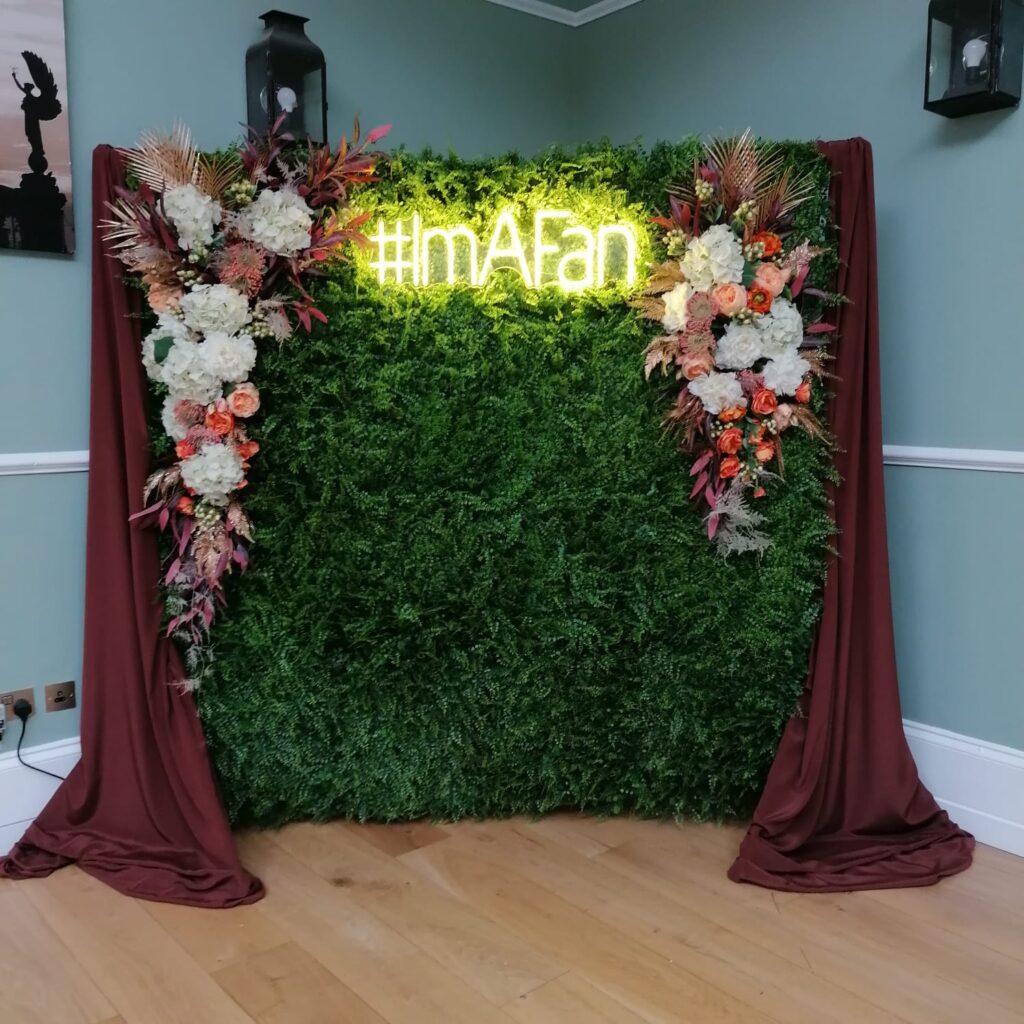 Flower Wall from £250
Wedding Gallery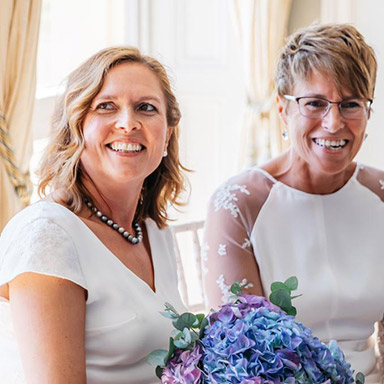 Our Wedding Flower Testimonials
I just wanted to say a massive Thank you for doing such a fantastic job with our flowers. Everything – my bouquet, the buttonholes, the flower crowns and hair grips – were absolutely beautiful and exactly what I had pictured. Thank you again
The flowers that you arranged for my wedding on 22nd April 16 were beautiful and exactly what we asked for. Your service from the start was spot on and you made the whole process easy for us. We will be recommending you
Big Thank You for our beautiful wedding flowers! They were gorgeous, the best ones! Thanks again
I just wanted to drop you a quick note to say a BIG THANK YOU! The flowers were absolutely beautiful and more than exceeded my expectations
I cannot thank Sabrina and the team enough for our gorgeous wedding flowers! The bouquet, buttonholes, corsages and flower crowns were perfect and totally exceeded our expectations. Sabrina completely got the look we wanted to create and she was so relaxed and friendly, making the whole process stress free and enjoyable. I wouldn't hesitate to recommend The Brighton Flower Company to anyone
Thank you so much for doing the flowers at our wedding; they went perfectly with both the modern ceremony venue and the rustic barn reception.The steel bucket displays were stunning and the brides and bridesmaids bouquets looked beautiful with our outfits. You understood exactly what we wanted, gave us lots of suggestions and helped us stick to our budget. We really can't thank you enough!
I was absolutely over the moon with the bouquet my husband sent from The Brighton Flower Company for our wedding anniversary. We were married in the Caribbean and they sourced some really lovely looking tropical flowers which were perfect for the occasion and lasted such a long time!
Just wanted to say Thank you for helping to make our special day so wonderful, everyone loved the flowers and fought over who would take them home!!
Oh my goodness🥰 I couldn't believe what I saw. The bouquets, buttonholes and the Garland were out of this world. Thank you so much again!
We just wanted to thank you so much for the beautiful flowers you did for our wedding, they were amazing and exactly what we wanted, so colourful and bright. They look amazing in the photos as well.
We had a lovely honeymoon thank you. Here are a few pics of our day which hopefully also show off the flowers…it was a joyous occasion! Thank you again, the flowers were truly fab.
We're back from Honeymoon now and we just wanted to give you a big thanks for helping make our special day really special. The flowers were amazing and really brightened up our dinner and we loved the bouquet and buttonhole. Several of our guests had an extra special day by being able to take away some of our flowers too. Thanks again.
Apologies it has taken me a while to email, post-wedding life has been pretty busy! I wanted to take the time to thank you so much for the flowers, bouquets and my flower crown you provided for our wedding. I really had a vision in my head of colourful, boho, wild and happy flowers and you absolutely delivered. Not only did you provide me with absolutely gorgeous bouquets for me and my 4 bridesmaids, a stunning flower crown but you also rescued us when our own home-grown flowers didn't turn out as planned! Really thank you so much.
We wanted to send an email to say an enormous thank you to you and to all of the lovely people at the Brighton Flower Company for making our flowers so beautiful for our wedding. They were truly amazing and even more than we could have imagined. It was so special seeing them for the first time, I did cry when I saw my bouquet as it was perfect. Adam's Granddad was really touched by the Family tartan being incorporated, it was so special that this was included in the flowers and everyone said it was so lovely that each of our immediate family had a flower / corsage / button hole. It was beautiful to see sunflowers everywhere we looked and they will always hold happy memories for us. The large floral pieces at the venue were just beautiful, we ended up giving one to my Grandpa, one to my mum and one to my uncle and they loved having a piece of the wedding to take home. We cannot thank you enough for all of your support, patience with all of the emails I sent, and for being so kind to us. We really appreciated all of the extra steps you took to make our flowers and day so special. My Grandma said that the flowers she received were absolutely beautiful, she wasn't expecting to receive them and felt like she was part of the day even though she couldn't be there in person. Thank you so much for arranging this delivery.
I hope you are well. I just wanted to say a huge thank you for my incredibly beautiful wedding bouquet. They were gorgeous and matched perfectly with everything. I have posted the photo attached on instagram and tagged the Brighton Flower Company so I hope you see it. Thank you once again!
I just wanted to send a quick email to say thanks for making the most beautiful and perfect bouquet and arrangements for our wedding last week. I loved my bouquet so much, I've had it sent off to be preserved! I also appreciate how easy and simple it was to work with you. If you want us to leave any reviews for your company, just let me know what platform is most helpful for you.
I just wanted to say a big thank you to all of you for making everything exactly as I wanted on my wedding day. The flowers and table arrangement was so lovely that it all matched the Rustic theme same as with the Six restaurant. The flowers were so beautiful and the buttonholes were so cute. Again, we can't thank you enough for all your help and for making our wedding beautiful.
Sorry this is so late, but we just wanted to say a big THANKYOU to you and your staff for our beautiful wedding flowers! You and the lady who was in your shop when we came for our meeting were both so welcoming and kind to us (sorry we can't remember the lady's name). Thank you so much for taking into consideration exactly what we wanted. Our bouquets and button holes truly were beautiful. We've attached a photo of us holding our bouquets as we came out of the registry office. We will definitely recommend Brighton Flower Company to anyone who's getting married!
Previous
Next
Get In Touch With Our Team
We offer very competitive prices across all of our wedding flowers and are able to cater for all budgets. If you would like to find out more about our wedding flower services, or to book your free consultation give us a call and speak to one of our friendly team members.
---
Wedding Flower FAQs
Find out more about our wedding flower services with our frequently asked questions below. Can't see the answer to your question? Get in touch and we'd be happy to help.
When should we get in touch about wedding flowers?
You should contact us about wedding flowers as soon as possible! We start to get booked up around a year in advance, so the earlier you contact us, the more chance we will be available for your wedding date. As soon as you've chosen your venue and wedding date, get in touch and we can book a free, no obligation consultation to discuss your dream wedding flower arrangements.
Can we visit your store and have a consultation with you about wedding flowers?
Yes, we encourage you to come to our store and speak to us directly about your wedding flowers. It's a great way for us to get to know you as a couple and understand what you're looking for, it also means you can see some examples and get a feel for us too.
I don't know anything about flowers, can you help?
Yes of course! A lot of our couples don't have an extensive knowledge of flowers and their names, but know what colours or styles of flowers they like. If you have photos or a colour scheme, we can help show you the types of flowers that fit in with this. There are also lots of seasonal flowers that will not only fit in with your wedding date and season, but are also a more cost effective way of purchasing wedding flowers.
I've seen some inspiration online, can you recreate this?
Sites such as Pinterest are a great way to get inspiration and plan the visuals of your wedding day. Whilst we can recreate most bouquets, you may want to consider slightly tweaking it and adding your own personal touch. This makes your wedding flowers completely bespoke and unique to you.
How do I book you for our wedding flowers?
To book us for your wedding, give us a call on 01273 770966 or fill out our online form below. We will book a consultation at a time convenient to you to discuss your big day. Following your consultation, we will provide you with a quote for everything we discussed and if you'd like to go ahead, then you can get in touch to book and pay the deposit to secure your date.
How much do wedding flowers cost?
Wedding flower costs can vary depending on what you'd like for your big day. We create bespoke, budget arrangements for smaller weddings, but can also create large arrangements that will cover your venue in beautiful blooms. Whatever your budget, we'd be happy to help you create the perfect backdrop for your big day. We're always upfront and transparent, so our quote will show the full costs of each item requested.
Which flower is best for weddings?
There is no particular flower which is best for weddings, it all depends on your theme or colour scheme. However, some of the most popular flower choices include roses, peonies, lisianthus and gypsophila .
We're able to source all types of flowers for your wedding day and we can really create your dream vision.
What flowers do you need for a wedding?
The flowers you need for a wedding are all down to personal preference. If you're having a small wedding, you may only want a bridal bouquet and some buttonholes. If you're hoping to use flowers for the main decorations, you may also consider:
Table centrepieces
Flower crown
Flower arch
Pedestal arrangements
Bridesmaid bouquets
Buttonholes for ushers
Real flower confetti
Aisle arrangements
The list is endless as to what flower decorations you can have, it all depends on your venue and the style you're going for.
What areas do you work in?
We work in Brighton and across the south east of England. If you're looking for wedding flowers in Brighton and the surrounding area, get in touch! If you're getting married further afield, please contact our team to discuss your options.
How long do you need to set up on the wedding day?
The amount of time we need to set up depends on how many floral arrangements you have for your big day. We will typically get to your venue first thing in the morning to ensure we have plenty of time to get everything ready. We will provide you with detailed information about our timings prior to your wedding day.
Are you able to visit the venue before our wedding day?
Yes we are able to visit your venue beforehand to get a better feel of the space. We have close relationships with a lot of venues in Brighton and the surrounding areas, so it's likely that we already know your venue and can picture your flowers and how they'll look.