The Brighton Flower Company
102 Western Road
Brighton
East Sussex
BN1 2AA
Call us on: 01273 770966
Email us at: [email protected]
Please check your spam folder for order confirmations
Contact Information
Opening Hours
Monday 9:00am–5:30pm
Tuesday 9:00am–5:30pm
Wednesday 9:00am–5:30pm
Thursday 9:00am–5:30pm
Friday 9:00am–5:30pm
Saturday 9:00am–5:30pm
Sunday 11am–3:00pm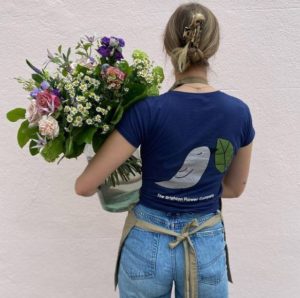 ---
Directions to The Brighton Flower Company
From Brighton train station
Once you get off the train, head down the big road towards Churchill Square shopping centre. At the junction with the pretty clock tower, head up the right side and you'll see Churchill square on your left, keep going along this road (Western Road) until you come to Take on your left and Waitrose on your right. A little past that, you will see us! With lots of lovely flowers and plants and a big beautiful handmade wooden sign above saying The Brighton Flower Company with our bird and watering can!
By Bus
There is a bus stop directly outside the flower shop! There is also one outside Waitrose. Either way, when you get off the bus, ask for Western Road or ask for Waitrose on Western Road, everybody is so friendly and knows exactly where you mean.
Driving
From Waitrose car park, Western Road
The nearest car park is Waitrose. It is simple to get to the flower shop from here. If you park in Waitrose car park, just walk through the entrance and down Montpellier Road. When you get to the junction cross on the left, take a right, keep going and you will come to us after you have passed the Barber Shop and Mascara restaurant.
From Churchill Square car park
This is an easy route to take to the flower shop. Leave Churchill Square Mall at the exit where JD Sports is. Walk up the ramp/stairs towards the main road and turn left. Then just keep walking and you will find the flower shop. Essentially, you are going in a straight line past Primark, the outside H&M, Waitrose on your right. When you get this far, keep a look out for lots of lush plants and flowers, we are on the left.
Discover details of how to find Brighton Flower Company from Central Hove