Giving flowers on special occasions serves as a beautiful and meaningful way to express love, create memories and celebrate the people and moments that matter in our lives. Flowers have been used as a means of celebration and expression of love for hundreds of years, so it's not surprising that even to this day, the flower arrangements that you pick out are important.
There are so many different flower arrangements out there, and each has their own place at certain occasions. So how do you pick out the perfect flowers for each and every occasion? Here is our guide on how to pick out the ideal flowers for all of those special events in your life.
Birthday flowers
Sending birthday flowers is a great way to show a loved one that you appreciate them. Some traditional birthday flowers include roses, which symbolise love and admiration, and lilies which exude elegance. If you're unsure of the recipient's preferences and interests, a bouquet of vibrant roses or an assortment of different lilies are always a safe option and are guaranteed to light up the face of the recipient. If you want to add in an element of symbolism, opt for yellow roses to convey friendship and joy, or red roses to show love and affection.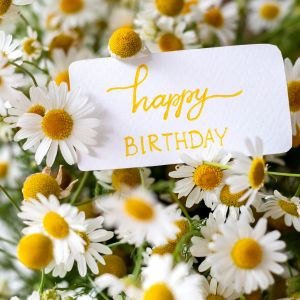 Furthermore, each month is associated with a specific birth flower. For example, for someone whose birthday falls in February violets and irises are the birth flowers, so those would make for a perfect bouquet. If you are stuck for ideas, an arrangement that features the recipient's birth month flower or seasonal flowers will add a nice personal touch to the gift.
If you are aware of the recipient's preferences, then consider finding a special bouquet composed of their favourite colours. You can incorporate a mixture of flowers in those shades to create the ideal arrangement. Of course, if they have their own favourite flower which you are aware of then find a bouquet that incorporates that flower – this will showcase your attention to detail and thoughtfulness.
When choosing birthday party flowers, ensure that you consider the age of the recipient. Younger people might appreciate vibrant and playful colours, whereas older people might like a more elegant floral display.
Anniversary flowers
Anniversaries are special milestones in a couple's journey, and flowers play a significant role in expressing love, appreciation and devotion.
For romantic anniversary flower arrangements, classic choices like a bouquet of red roses never fail to captivate. Red roses symbolise passionate love and are a timeless expression of deep affection.
While traditional anniversary flower gifts hold sentimental value, non-traditional options can also make meaningful and unique presents.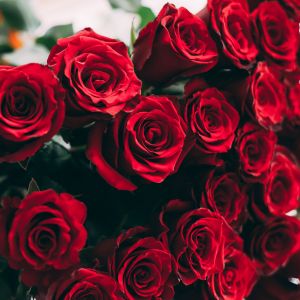 Consider gifting a flower delivery subscription, which allows your loved one to enjoy the beauty of fresh blooms throughout the year. This thoughtful gesture ensures that love is celebrated beyond the anniversary date and adds a touch of joy and surprise to their home on a regular basis. Alternatively, an indoor plant such as an orchid or a potted rose can symbolise growth, resilience, and the ongoing nurturing of love and commitment.
Mother's Day and Father's Day flowers
Mother's Day and Father's Day are a day dedicated to appreciating each parent. Sending flowers is a popular way to help express gratitude and love for the nurturing and care they provide.
Popular Mother's Day flowers include roses, which symbolise love, carnations, which symbolise gratitude and a mother's love, lilies, which represent purity and nurturing, and tulips which symbolise a great deal of things based upon their colour, such as happiness, caring, forgiveness and purity.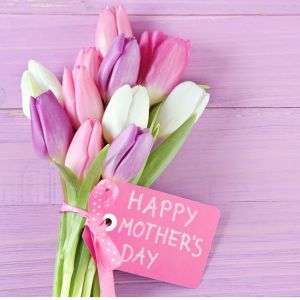 On top of this, if your Mum has a favourite colour or flower you can incorporate these into your beautiful bouquet. Read our blog if you would like further guidance on how to choose the perfect Mother's Day flowers.
For Father's Day, orchids are a sophisticated option. They represent strength, beauty and resilience. If orchids aren't quite right, then try sunflowers or irises. Their vibrant and joyful colours are ideal for celebrating Father's Day.
Baby showers
When choosing flowers for a baby shower, it's ideal to opt for blooms that evoke a sense of joy, innocence, and the anticipation of new life. Some flower choices that work well for baby showers are:
Baby's Breath: Baby's Breath has small white blooms which symbolise purity and innocence, making it a popular choice for baby-related events.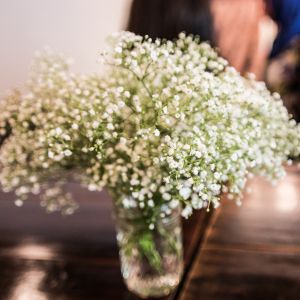 Roses: Soft pastel-coloured roses, such as light pink, peach, or lavender, can add a touch of elegance and sweetness to the décor.
Daisies: Daisies are cheerful and symbolise innocence and purity. Their vibrant colours and simple beauty make them a popular choice for baby showers. Consider a mix of white and yellow daisies to create a bright and joyful arrangement.
Chrysanthemums: Chrysanthemums, especially in shades of pink or blue, can be a lovely addition to a baby shower floral arrangement. They symbolise happiness, joy, and positive energy, reflecting the celebratory nature of the occasion.
Hydrangeas: Hydrangeas have large, lush blooms and come in a variety of soft and soothing colours. They symbolise gratitude and heartfelt emotions, making them a fitting choice for expressing well wishes to the parents-to-be.
Sunflowers: Sunflowers exude warmth, happiness and positivity. They can bring a vibrant and joyful energy to a baby shower, symbolising the sunny and hopeful journey of parenthood.
When choosing the flowers, consider using soft pastel shades like baby pink, baby blue, or light yellow to maintain a gentle and whimsical atmosphere. You can also incorporate playful elements like ribbons or balloons to further enhance the baby shower theme.
Other special occasions
For other special occasions, choose flowers that fit your recipient or reflect the special day. For example, if you're celebrating a housewarming, it might be best to opt for an indoor plant so they have some added decoration for their home for years to come.
Other special occasions you can purchase flowers for as a thoughtful gift include:
Valentine's Day
Easter
Get well soon
Thank you
Graduation
Congratulations
Christening
Ramadan
Diwali
Flower delivery
Flowers bring emotional impact whenever gifted, so it can be vital that you pick the right flower arrangements! At The Brighton Flower Company, we have flowers for every special day. From wedding flowers to sympathy flowers, and even corporate flowers, we have it all.
We hand deliver our bouquets across Brighton & Hove and the surrounding areas of East Sussex between 11am – 6pm seven days a week, and if you order before 3pm we can offer same day delivery. We also offer a wide range of flowers and plants for national delivery across the UK. You can order flower arrangements made by our florists on our website, or contact us to discuss personalised bouquets.