Looking to add a touch of nature to your holiday decor? Learn how to make a Christmas wreath with natural materials.
Gather your supplies and follow these simple steps to create a beautiful and festive wreath that will impress your guests.
With a little creativity and some basic tools, you'll have a unique and eco-friendly decoration that will bring the spirit of the season to your home.
Let's get started!
Material collection
When it comes to making a Christmas wreath with natural materials, the first step is to collect the necessary materials. Look for:
Evergreen branches from trees like fir, spruce, and pine. These branches will provide a lush and festive base for your wreath.
Moss to secure to the wreath frame.
Gather berries such as holly or rowan to add pops of colour.
Some pinecones for added texture.
For a touch of fragrance, include dried fruits like oranges and apples or even cinnamon sticks.
Gather nuts like acorns or hazelnuts to add a rustic element.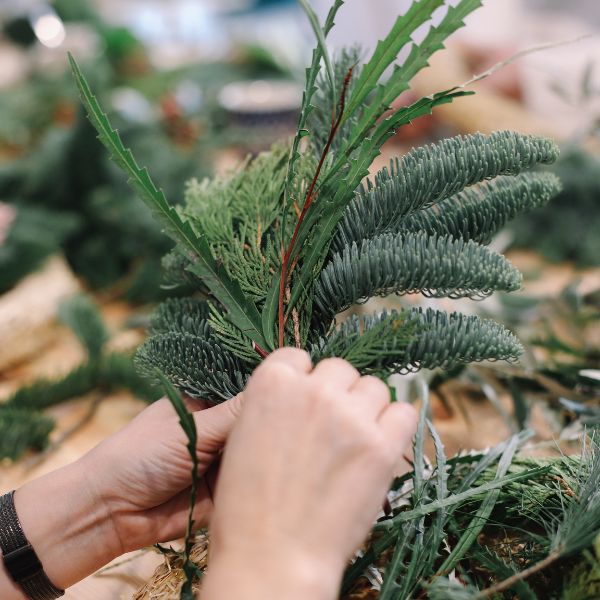 Tools required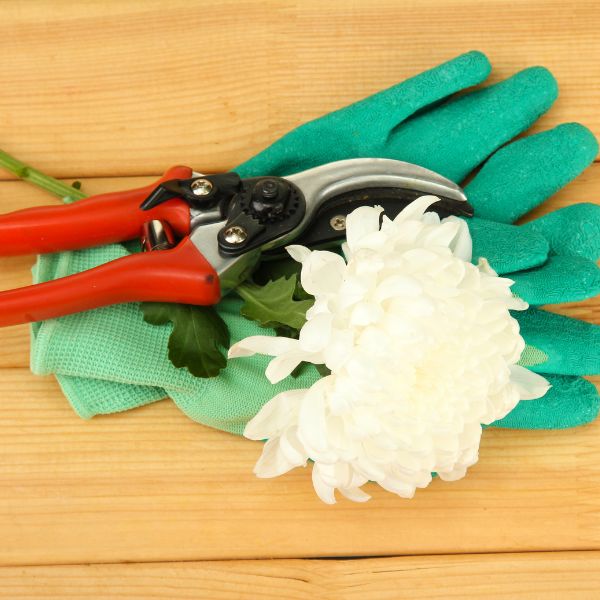 For a homemade Christmas wreath, you'll need to gather the following tools:
Secateurs or garden scissors: These will be essential for cutting and trimming the branches and foliage you'll be using for your wreath. Make sure they're sharp and clean to get precise cuts.
Wire wreath frame: This is the base of your wreath where you'll attach the greenery. Look for a sturdy frame that's the right size for your wreath.
Floral wire: Use this wire to secure the greenery to the wreath frame. It's flexible and easy to manipulate, ensuring that your wreath stays intact.
Don't forget to wear gloves to protect your hands from prickly branches and any potential allergies.
Lastly, you'll need twine or ribbon to hang your wreath once it's completed.
With these tools in hand, you're ready to start creating your beautiful natural wreath.
Wreath-making steps
Base preparation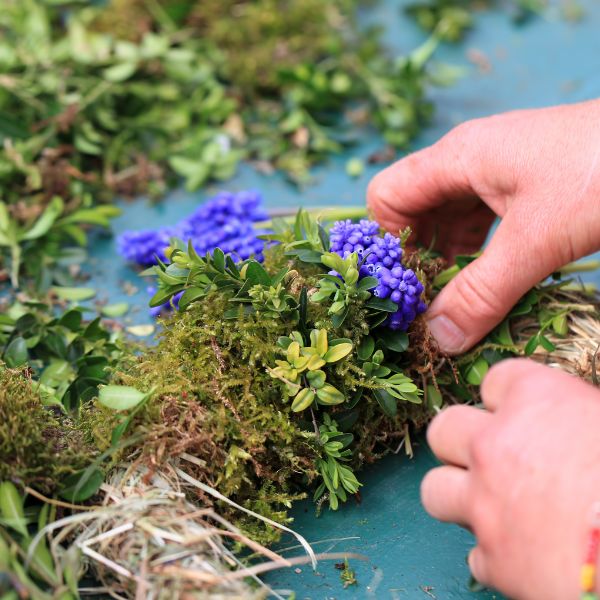 Start by gathering all of the natural materials you'll need for your Christmas wreath. Here are the steps to prepare the base for your wreath:
Measure the wire frame: Take your wire frame and measure it to determine the size of your wreath. This will help you understand how much greenery and other materials you'll need.
Add moss: Take a handful of moss and spread it evenly over the wire frame. This will help create a base for your natural materials to stick to and give your wreath a lush, full look.
Secure the moss: Use floral wire or thin gauge wire to secure the moss to the wire frame. Wrap it tightly around the frame, making sure the moss is firmly attached. This will ensure that your base is stable and ready for the next step.
Add evergreen materials: Start by placing your evergreen branches around the wire frame and securing them with the floral wire. Ensure they're all going round in the same direction and just keep placing around the frame until you have completely covered it. Add more branches where necessary until you're happy with the shape and size.
Adding flora and berries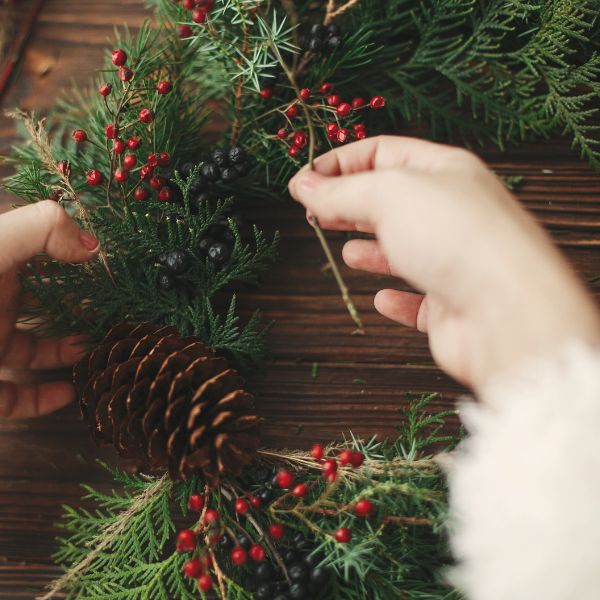 Adding flora and berries is a fun way to give your natural Christmas wreath extra visual interest and holiday flair. Holly berries and rowan berries add vibrant pops of festive red throughout the wreath.
Start by wiring small clusters of holly or rowan berries to the wreath base in a few spots. Make sure to add a nice variety – some sprigs here, a few single berries there.
Continue adding and arranging until you're happy with the fullness and winter charm.
When adding the flora and berries, make sure to distribute them evenly around the wreath for visual balance. You can tuck them into the base or use florist wire to secure them in place.
Decorative elements
Consider adding some decorative elements to your Christmas wreath, such as pine cones, dried fruits, and nuts, to enhance its natural beauty. These elements not only add visual interest but also provide a delightful fragrance to your wreath. Here are three steps to incorporate these decorative elements into your wreath:
Attach pinecones: Use a hot glue gun or floral wire to secure the pinecones onto the wreath. Arrange them evenly around the wreath for a balanced look.
Add dried fruits: String dried fruits, like dried orange slices or cranberries, onto floral wire. Twist the wire around the wreath, allowing the fruits to dangle freely. This adds a pop of colour and texture to your wreath.
Include nuts: Attach nuts, such as acorns or walnuts, to the wreath by using hot glue or wire. Scatter them among the other elements to create a natural and rustic look.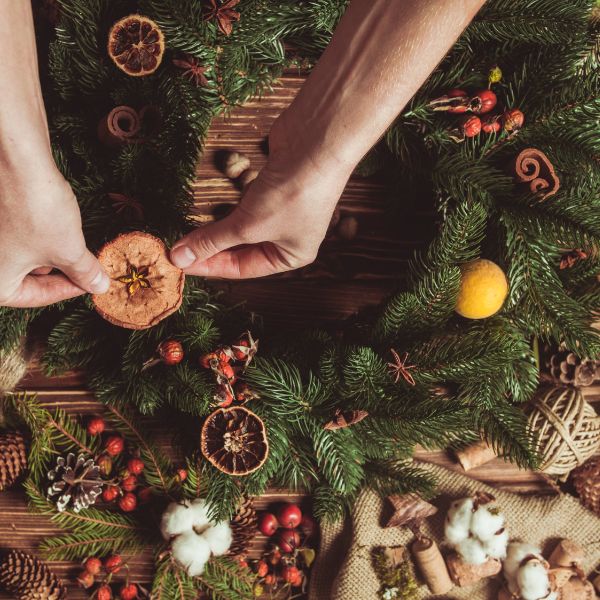 Once you're happy with the placement of your decorative elements and the overall look of the finished wreath, then place it on your front door, in your home or wherever you think it best helps you celebrate the festive season!
Preservation and care
To maintain the freshness and longevity of Christmas wreaths, regularly mist them with water. As natural materials tend to dry out over time, misting your wreath will help to keep it hydrated and prevent it from becoming brittle.
Use a spray bottle filled with water to mist the foliage and decorations evenly. It's important not to oversaturate the wreath, as this can cause the materials to become mouldy or damaged.
Additionally, keep your wreath away from direct heat sources, such as radiators or fireplaces, as this can speed up the drying process.
Our Christmas wreath making services
Looking to create a beautiful Christmas wreath but not sure where to start? Look no further!
We offer a DIY wreath kit that includes all the materials and instructions you need to make your own festive wreath at home.
If you prefer a hands-on experience, join our wreath making classes in Brighton where our expert instructors will guide you through the process step by step.
DIY wreath kit
Get started on your DIY Christmas wreath with our all-inclusive wreath kit. We've made it easy for you to create a stunning traditional wreath with natural materials right at home. Here's what you'll find in our kit:
Fresh greenery: We provide a variety of fresh and fragrant greenery, like pine, cedar, and eucalyptus, to give your wreath a festive touch.
Decorative accents: Spruce up your wreath with pinecones, berries, and ornaments. These accents add a pop of colour and make your wreath unique.
Wire and ribbon: We include wire and ribbon in the kit to help you secure the greenery and add a finishing touch to your wreath.
Step-by-step video guide: You'll get access to our step-by-step guide on how to make a Christmas wreath by our expert florists.
With our DIY wreath kit, you'll have everything you need to create a beautiful Christmas wreath that will impress your guests and spread holiday cheer.
Happy wreath making!
Wreath making classes in Brighton
Join us for our wreath making classes in Brighton, where you can learn how to create a stunning Christmas wreath using natural materials.
Our workshops run throughout December and will teach you the art of crafting a beautiful and unique wreath. Using scented mixed foliage, velvet ribbon bows, dried fruit decorations, and natural ornaments, you'll be able to create a wreath that perfectly captures the festive spirit. We also welcome any snazzy baubles you may have, which we can show you how to attach.
The classes last for 1.5 hours and take place at The Temple Bar on 121 Western Road, Brighton. If you have any accessibility requirements, please let us know in advance so we can accommodate your needs.
Don't miss out on this opportunity to get creative and bring some Christmas cheer to your home!
Frequently Asked Questions
How long will a Christmas wreath made with natural materials last?
A Christmas wreath made with natural materials will last for several weeks if properly cared for. Regularly misting the wreath and keeping it away from direct sunlight will help prolong its lifespan.
Can I add lights to my Christmas wreath made with natural materials?
Yes, you can definitely add lights to your Christmas wreath. It will add a beautiful glow and make your wreath even more festive and eye-catching.
Can I customise the size and shape of my Christmas wreath?
Yes, you can definitely customise the size and shape of your Christmas wreath. It's a great way to add your personal touch and make it unique.