Flowers can really bring a wedding to life. They are the perfect backdrop to any ceremony, can add a touch of colour to your wedding venue, and the bridal bouquet is an amazing accessory that completes your stunning wedding look.
There are a lot of different types of wedding flowers and wedding bouquets that you can incorporate into your big day and no matter what size your wedding is, whether you're having a large wedding or a small intimate ceremony, we can help you find the perfect balance of wedding flowers to complement your day.
Take a look at our guide to wedding flowers below, including ideas for anyone having an intimate ceremony. There is no wrong or right choice when it comes to wedding flowers, it all depends on your tastes and style, as well as your venue and what will look good in the space.
We love creating bespoke wedding and civil ceremony arrangements for weddings of all shapes and sizes across the whole of England. Get in touch with our team on 01273 770966 if you'd like to discuss your wedding requirements and book a consultation with our florists.
Personal flowers
While we can tailor our wedding flower arrangements to your needs, below are some of the most popular floral arrangements for individuals in the wedding party:
Bridal bouquet
View this post on Instagram

One of the most popular and important wedding flower arrangements for your wedding day. The bridal bouquet sets the standard for the rest of the bouquets, ensuring that everything matches in with it, with some subtle differences.
The flowers featured in this bouquet usually match in with the colour scheme of the wedding day and will perfectly complement your wedding dress, as it's the main accessory. There are many different styles available, from tight, round bouquets to 'wild' flowers that have a waterfall effect.
Bridesmaids bouquets
Bridesmaids bouquets are always smaller and very similar versions of the bridal bouquet, to ensure that the bridal party all match with each other. These are another very popular wedding flower arrangement for a lot of couples and can be central to bridal party photos.
Confetti
The confetti throw is a lovely tradition at weddings and a lot of couples opt for real flower petals for this event. The flower petals can also be used for any flower girls to throw along the aisle before you.
Buttonholes/boutonniere
Buttonholes tie in the groom and the groomsman with the rest of the party. The buttonholes tend to be small and subtle versions of the main bouquet, picking out the main flowers and colours from this arrangement.
Corsages for wedding party
Whilst this is not as much of a tradition anymore, some couples like to provide other members of the wedding party, such as the mothers of the bride and groom with corsages so they feel part of the day with their look and match in with everyone else. These are typically smaller, subtler pieces.
Flower crowns
Hair flowers have become a super popular trend in recent years, with some brides opting for a few subtle flowers to go in their hair, and others loving the look of full on flower crowns to finish off their full bridal look.
Venue flowers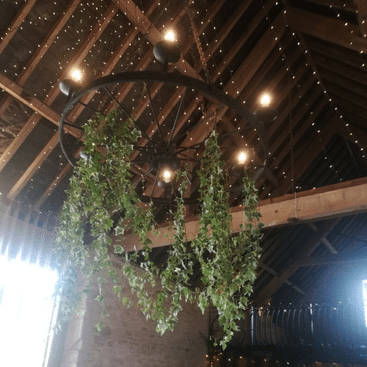 When it comes to wedding flowers for your venue, it really can depend on where you're getting married as to what flower arrangements you'd like and whether or not certain ones are needed. Below are some of the most common types of wedding flowers for venues, regardless of your venue type and style.
Table centrepieces
Floral centrepieces are a popular table decoration for weddings, as they add a bit of colour to the table and tie the colour scheme of the whole wedding into the room. Types of centrepieces can be low or high, depending on your style and there can even be a larger one for the top table that typically goes along the width of the table.
Chair arrangements
View this post on Instagram

Adding some small, subtle flowers to the ends of the aisle chairs for the ceremony can create a pretty and natural look. If you have a very natural and rustic wedding venue, this type of arrangement is the perfect decoration for your venue.
Floral arch
View this post on Instagram

Floral arches have become extremely popular in recent years as a statement piece that frames the couple during the ceremony. These can be made into the style of the wedding, so can have a rustic look or a more modern or classical look. This all depends on your style and wedding venue.
Pedestal arrangements
A lot of couples like to have pedestal arrangements as part of their wedding flowers, as these can be placed around the venue to tie the whole space in with the chosen theme and add lots of colour to the space.
Intimate weddings
If you're planning on having a smaller, more intimate wedding and just need a few flowers to complement the day, then there are a range of options for you. The most popular wedding flowers for intimate weddings are:
Bridal bouquet
Bridesmaid bouquet(s)
Buttonholes
Corsages
Any ceremony decorations
At Brighton Flower Company we have worked on weddings of all sizes to create beautiful bespoke wedding flower arrangements that perfectly complement your wedding day.
During the coronavirus pandemic, we have worked with a lot of brides and grooms who have had to reduce the size of their wedding day to comply with lockdown restrictions. This means we are highly experienced at creating the perfect wedding flowers for more intimate ceremonies and will work closely with you to create your dream wedding flowers and bouquets.
How we work with you to create your perfect wedding flowers
Our approach to creating your wedding flowers is very personalised, we'll work closely with you to learn about your plans for your wedding, the venue and the style you are going for. Our wedding flower arrangements and wedding bouquets will reflect everything we have discussed and are created by our expert florists in house.
Find out more about our expert wedding flower services and get in touch with our team to book a free wedding consultation.