At The Brighton Flower Company we pride ourselves on being an independent florist, run by women, and with a strong female-led team. As we look ahead to International Women's Day 2021, and reflect on a year where we've met the challenges of a global pandemic, we're aiming to use our expert floristry skills to celebrate all women, and of course mums, as Mother's Day approaches on 14th March.
Find out more about our range and team below. To order by phone call 01273 770966, where we're also happy to answer any questions about our products, or create a custom design.
What is International Women's Day?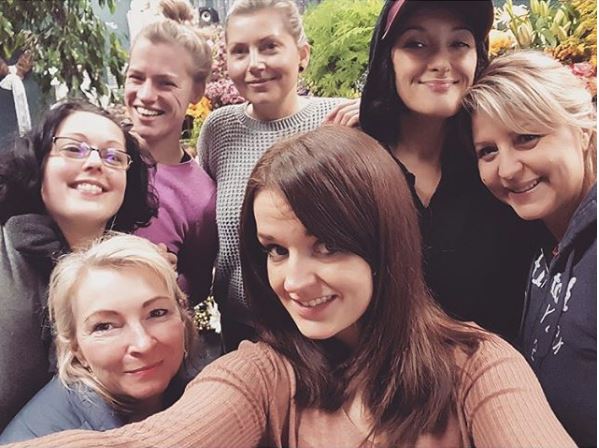 International Women's Day (IWD) takes place annually on 8th March and is a global event that focuses on celebrating the achievements of women, with a view to accelerate gender equality. IWD was first honoured in 1911, following approval the previous year at the second International Conference of Working Women, and is represented by the colours, purple, green and white.
In 2021 the theme for the day is 'choose to challenge' with the aim of keeping the world alert to gender inequality. You can follow along with the hashtag #ChooseToChallenge on all social media channels.
Kate Scott, owner of The Brighton Flower Company
Since 2010 Kate has been the owner of The Brighton Flower Company after a long standing career in HR. Taking a leap of faith Kate bought the business when it went up for sale and the rest, as they say, is history.
Since then it has grown into a larger team of talented florists with a dedicated delivery driver, and has been able to offer customers popular flower workshops, with an online offering in 2020 during lockdown.
"I really want to recognise the wonderful ladies and two gentleman drivers at The Brighton Flower Company who have made what seems impossible during a pandemic, possible for our business. They and their amazing family members have pulled it out of the bag to keep us a success and we've managed to experience a huge increase in orders, all down to their hard work.
From bouquets to wish people better, cheery notes to let people know they are being thought of when they are down, to sympathy flowers and funeral tributes that have been made, our team have made it all possible despite the challenges.
We've also been very lucky to have received many emails of thanks for making contact safely with people in a way our customers couldn't. The last year hasn't been what we expected, but we have risen to it".
– Kate Snow, Owner The Brighton Flower Company
Celebrate women
This year, why not celebrate the women in your life with a bouquet? It's the perfect time to recognise achievements, to say thank you, or simply let them know you appreciate them.
Our Ultra Violet bouquet features gorgeous purples and greens with Ocean Song roses, Lissianthus, Clematis and Astrantia, and we have a select range of handcrafted bouquets available to suit all tastes.
Our Mother's Day flowers range
Each year we launch a brand new Mother's Day flowers range that our team designs in-store using seasonal flowers, with bouquets available in a range of sizes and to suit a variety of budgets. For each bouquet we choose flowers that are bright and beautiful, and will enclose a handwritten note with your personalised message to your mum.
Our team is dedicated in producing creative floral designs and we think this unique process is reflected in the bouquets, making them the perfect gift! Each bouquet will be fresh and you can pass on our care guide to keep flowers fresh for longer so they can make the most of their present.
If you're shopping for your mum, also consider some of our beautiful indoor plants and succulents which prove popular throughout the year, and our gifts range that includes cuddly bears and chocolates. With this Mother's Day being under lockdown restrictions in the UK, it's the perfect time to show you care.
Tips on picking the perfect bouquet
Choosing to give flowers as a gift is a wonderful choice as they show you're thinking of someone, are affordable and brighten up any room in the home. They can also help boost people's mood and general wellbeing, making them pretty powerful gifts.
If you're looking for some easy tips to pick the perfect bouquet, follow this advice:
Choose bouquets that include their favourite flowers, colours or scents
Think about where they might put the bouquet in their home and visualise what might look best
How much space do they have? Use this to help decide if you can pick a large or deluxe bouquet
Be aware of any allergies or pets, as some flowers aren't suitable for cats and dogs
With all that in mind, relax and take it easy! Picking a bouquet should be fun and when it comes down to it, it's the thought that counts. Our florists have created this beautiful range so that you can't go wrong!
Speak with our team today
We're always on hand to help if you're not sure which flowers your mum or special someone in your life would like the most, and are happy to advise as best we can. We can suggest our most popular bouquets, or if you let us know a bit about their favourite colours or scents, we can suggest the right flowers for them.
Just call us on 01273 770966 or email us at [email protected] and we'll get back to you as soon as possible.